The COVID-19 pandemic and remote working have reflected in an increased demand for professionals across all areas of cybersecurity.
Whether you are taking your first steps towards data protection and privacy or instilling a global culture of security and best practices across your organization, BSI wants to make sure both you, and your team, are staying on track of your training and certification goals.
Simply choose the offer below* that best fit your needs and fill in the accompanying form to speak to a member of our team who will be in touch on the same day.
---
3 for 2 offer on cybersecurity training for employees
Book 3 delegates for the price of 2
Leverage the advantage of getting 3 team members trained on a selected course with BSI's Professional Training Academy at the price of only 2.
Train yourself and your staff to safeguard your business and develop organisational resilience with accredited information security, risk management, data protection and cloud security courses from BSI.
Offer valid across all BSI cybersecurity courses once all delegates are booked on the same selected course.
View our upcoming courses and start planning your spring certifications.
* Course fees may vary. Offer valid across all BSI courses until 16 April, 2021 at midnight GMT
---

Choose one of our 'Professional Pack' options and save up to 15%
Choose between a course, or a professional pack below and benefit from up to 15% discount:
1) Privacy Professional Pack: Certified Information Privacy Professional Europe (CIPP/E) + Certified Information Privacy Manager (CIPM®)
2) Information Security Professional Pack: Certified Information Security Manager (CISM®) + Certified Information Systems Security Professional (CISSP)
3) Risk Management Professional Pack: Certified in Risk and Information Systems Controls (CRISC) + EC Council Certified Incident Handler (ECIH)
Book any course and get 10% off your booking or book a Professional Pack to get 15% off your purchase.
* Course fees may vary depending on region and currency. Offer valid until 16 April, 2021 at midnight GMT
---
Why BSI?
Expertise lies at the heart of what we do. As trusted advisors of best practice, we empower you to keep your business safe through a diverse portfolio of information security solutions. BSI training is provided by industry experts with extensive experience in IT and cybersecurity.
Our expert tutors work with globally accredited training partners to create and deliver tailored training courses that help you get the knowledge and skills you need to build resilience around your information security and data management.
From beginner to advanced courses, we've got you covered. Learn more about our range of certified information security and data protection training courses

Have a question?
Speak with our Cybersecurity Training Portfolio specialist, Stuart Miller. Simply fill out the form above and hear back from us on the same day or give us a call on the number below.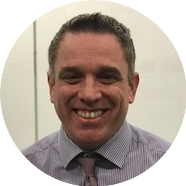 IE/International: +353 1 210 1711
United Kingdom: +44 345 222 1711