The COVID-19 pandemic has illustrated the crucial role healthcare organizations play in wider society. Healthcare organizations worldwide have experienced the havoc a cyber-attack can cause, highlighting the importance of supporting and maintaining fully functional healthcare systems globally.
Insights paper - Supporting healthcare organizations in building cyber resilience
Did you know?
30,000 malicious emails were sent to the UK's health service in March and April last year
There was a 6000% increase in 'Phishing' attacks last year
595 general healthcare practices were infected by the 2017 Wannacry attack
This recently released, interactive insights paper features a wealth of knowledge to support and assist healthcare organizations in improving their cybersecurity posture and resiliency by exploring:
The privacy implications of a cyber attack

Recent examples of targeted attacks

The Internet of Medical Things (IoMT), risks and measures to protect privacy and counteract threats

Developing a layered approach to mitigating cybersecurity risks
---
Infographic - How we support healthcare organizations in building cyber resilience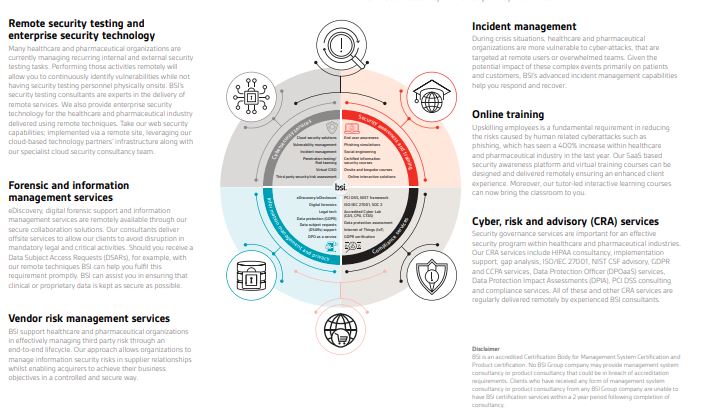 At BSI, we have a large team of highly experienced, industry-leading consultants that help ensure that you and your business are supported in all the healthcare cybersecurity requirements you need. As trusted advisors to our healthcare clients, we empower you to keep your business safe through a diverse portfolio of information security solutions.
Whether it's security and privacy roadmaps, program implementation, compliance testing and remediation or training, we can help you achieve your goals that help you ensure better patient outcomes
---
Quick guide - Think before you click!
Avoid the perils of a phishing attack with our quick guide to combat phishing.
---
Defence guide - What is social engineering?
The social engineering techniques malicious actors use are endless. The deception, manipulation or exploitation of an individual or organization can fall under many guises. You can find the most common techniques in our new social engineering defence guide.
---
Don't miss out on the latest cybersecurity trends

Receive information on the latest cybersecurity and information resilience insights. Subscribe to our newsletter to receive more insights.
---